Savile Row Pure Merino Wool Suit Fit
Structed, Sophisticated and Tailored. Perfectly Elegant is our Fit. Whether you are trying our Tailored Block or our newest Slim Block, we are sure that our suits will fit you perfectly. Our customer return again and again for Savile Row because our Suits become their Personal Favourite for one reason - " Our Savile Row Fit".
Savile Row Suits is more than the name, its a way of life celebrating the very best in the art of "British Tailoring". The very best merino wool fabric, one of the very first thing you will notice in our suits is our fabrics. The "Heart of our product". All our fabric are wear tested personally by our design and product team which means that all our suits that carries our label has been worn and tested personally by our designer. All premium suiting range uses 100% Pure Australian Merino Wool which is the best in its class. Our suits speak our quality and we are confident that they would stand the tests of the demand of a modern man.  Start your Savile Row heritage with our impecably crafted suits .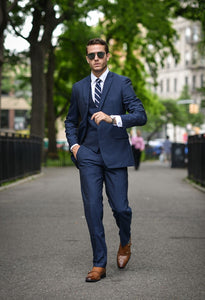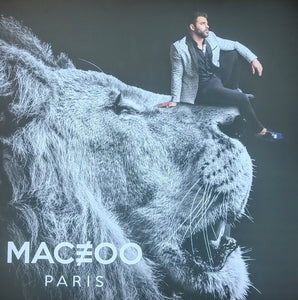 Macceo Collections
MACEOO is the first fashion house to mathematically engineer precise design, fit, and comfort through an innovative algebraic algorithm. This proprietary algorithm, based upon data from 30 million North American men, ensures a fit that feels custom-tailored.
Experience none of the fit issues of standard dress shirts. No extra unwanted fabric hanging which maintains the "non-sloppy" appearance. The collar was designed specifically to not wear on or cause discomfort to the neck. Hidden under collar buttons keep collar from falling down or opening up. Shirt trim is wider, stiffer and thus more noticeable and with a cleaner line. "We don't short-change you on the details!
Bruton Dinner Suit - Shawl Collar
Perfect for Weddings, Balls, and Any Event. Get the look that you want at Platinum Menswear.
Smart, Sophisticated, Slim Fit and Stylish addition to your wardrobe.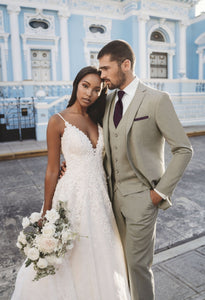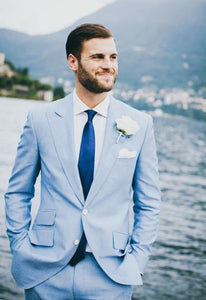 New Range of Linen Suits
Check out our New Range of Slim Line Linen Suits, arriving in August 2022, Perfect for beach and tropical weddings. Choose from three colours SAND, IVORY and LIGHT BLUE. Stylish and Trendy at the same time it's comfortable to wear, dress to impress with our quality suits. Clothes that define your personality and leave an impression in the party with the best suit ever. The perfection in suit creation!
Our Stores
Westfield Booragoon Shopping Centre
PH: 08-9364-7676
Opening Hours
Monday - Friday - 9am - 5:30pm
Thusday - 9am - 9pm
Saturday - 9am - 5:30pm
Sunday - 11am - 5pm
___________________________________________
Hay Street Perth Store
PH: 08-9425-5228
Opening Hours
Monday - Wednesday - 10:30am - 4:30pm
Friday - 10:30am - 5pm
Saturday - 10:30am - 5pm
Sunday - CLOSED